A kitchen remodel is an excellent way to add value to a home while creating a comfortable, functional space you'll love every day! Even a small-scale renovation can make food prep and cooking easier, and create sufficient, accessible storage right where it's needed.
The one downside to a kitchen renovation is that you'll need to live without your kitchen for several days or even weeks, as your contractor completes the project. While you might relish the idea of eating out or enjoying delivery for a few weeks, this can be expensive and unhealthy, and means leftovers you'll need to store somewhere! To help you get through a kitchen remodel with as little stress as possible, check out these simple tips and tricks.
10 Quick Reminders for How to Survive a Kitchen Remodel
Before offering some direct advice on getting yourself through a kitchen renovation, note a few quick reminders and simple tips that will help you plan accordingly. Be sure to discuss these tips with your family and kitchen renovation contractor, as he or she might offer added advice on how to survive a kitchen design project.
Since it's best that you avoid the kitchen space altogether, remove pantry items including canned goods and paper products and plan on keeping these elsewhere throughout the kitchen renovation.

Rather than simply tossing all your foodstuffs in a box, keep things separated as needed. Use small cardboard boxes or plastic bins and label them according to canned goods, breakfast foods, paper towels, and trash bags, and so on.

Choose one spot in the home where you'll store non-perishable items; if you cannot put them all in one spot, make a note of what foods will be stored in which room so you don't need to hunt around to find things! Post that lists somewhere accessible so everyone knows where to find pet food, snack items, and so on.

Cut down on foods that need the most prep during a kitchen renovation! Forego complicated dishes and stick to easily prepared foods like sandwiches and salads, or foods that can be made in one pan, such as canned soup or chili.

Stock up on protein bars, granola bars, cracker packs, and other such nonperishable items as well.

Before your kitchen renovation begins, visit local supermarkets and note what prepared foods they offer that will suffice for your family. Many grocery stores sell fresh rotisserie or fried chicken, hot soup, potato salads, premade sandwiches, and other such staples.

Supermarkets also sell lots of pre-cooked items that only need heating in a microwave, such as roasts, mashed potatoes, and the like. These items might be healthier and more satisfying to your family than just canned soup and peanut butter sandwiches!

Since you'll probably be without a full-scale oven during your kitchen remodel, note what foods you can cook in small appliances elsewhere in the home. For instance, put a crockpot in the bathroom or microwave and rotisserie in the laundry room, ensuring you can plug them in safely and keep them away from water sources and other hazards.

A plug-in burner or hotplate, usually available in the kitchen section of any home goods retailer, is also an excellent choice for heating food outside the kitchen. As with other appliances, use caution around water and ensure the hot surface doesn't get close to furniture, curtains, and other such items.

If possible, relocate the refrigerator to another room of the home so you can keep perishable items throughout the kitchen remodel. If the refrigerator is too big and bulky to relocate, or it leaks so you'd rather not move it, you might consider investing in a compact refrigerator throughout the remodeling process.

If you're an experienced camper or outdoor cooking enthusiast, it's time to pull out the camping stove and fire up the grill! Eating outdoors will mean enjoying more hot, fresh meals while also keeping you and the family out from underfoot of your contractors. Be sure you have all supplies needed for outdoor cooking before the renovation begins, including propane, cleaning tools, and so on.
What Do You Do When You Have No Kitchen!
Now that you've noted some general tips on preparing for the kitchen renovation, consider some added info on what to do once that work begins! Start by finding a spot in the home that you can keep clean and hygienic, ready for food prep, and that's easy to clean up afterward. For some homes, you might simply move foodstuffs into the dining room, or rearrange the living room furniture and set up the kitchen table in a far corner.
If you'll be prepping food in a carpeted room, remember that it's difficult to remove food stains from carpeting! Put a plastic sheet under the area where you'll be working; even a thick shower curtain liner will suffice.
Have a small trash bin you can use for food scraps that would otherwise go into the garbage disposal, and line it with plastic shopping bags or other small trash bags; be sure you take out that trash bag every night or every few days, as needed, to keep from having rotted foods in the home.
To wash dishes, use a large dishpan and any sink or tub in the home; however, you don't want food scraps to go down a drain not attached to a garbage disposal, as this leads to clogs. To wash dishes safely, put a colander over the drain, and wash your dishes over it. The colander will trap food scraps and crumbs, keeping them out of the drain, and you can then empty them into the trash once your washing is done.
How Do You Live Without a Kitchen?
If your home is somewhat small and you don't have much room to set up a temporary kitchen while your actual kitchen is being renovated, consider a few ways to live without a kitchen entirely. One tip is to stock up on items that need little to no prep or cooking, as said. These might include:
Protein or breakfast bars

Fresh fruit

Carrots and celery with peanut butter for dipping

Peanut butter crackers or cheese and cracker packages

Tuna salad kits
Your supermarket and even convenience stores also offer lots of premade items that need no prep work, including sandwiches, soup, pizza slices, and premade salads, as said. You can also invest in a plug-in kettle for boiling water without a pan; pour some canned soup into a disposable bowl and add boiling water, and you have soup with no cooking or cleanup!
If you need to keep cleanup to a minimum, perhaps only having a small bathroom sink and shower for washing dishes, consider some foods that need few utensils and dishes. You can often make sandwiches using paper towels or paper plates rather than real plates that need washing, and use just one knife for spreading peanut butter or condiments; washing just that one knife in a bathroom sink is easy for anyone!
While many homeowners today are also very eco-conscious, this might be a time to make an exception and stock up on some Styrofoam bowls, paper plates, and plastic utensils. Using disposable items means no clean up afterward, making it a bit easier to survive without a kitchen! If it's a nice day you can also grill out!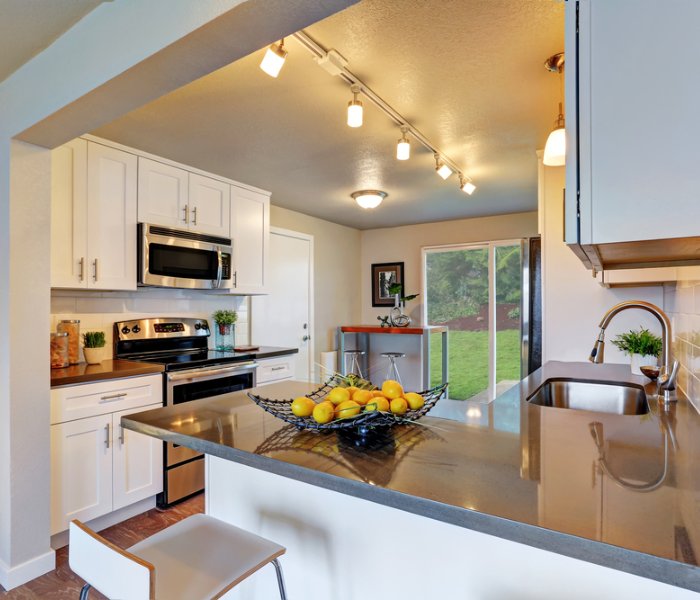 How Do You Cope When Your Kitchen Is Being Renovated?
Being without a kitchen is difficult for anyone, but especially busy families with lots of hungry mouths to feed! Some people might also miss fixing large, nutritious meals for their family, and others might struggle with a somewhat disorganized home, feeling irritation every time they look at a cardboard box of foodstuffs in the corner of the living room.
One way to cope when your kitchen is being renovated is to keep reminding yourself that it's only temporary! Before you know it, you'll be in your beautiful new kitchen, preparing those scrumptious meals in an organized, functional space.
Remember, too, that children often pick up on a parent's mental and emotional state; if you're stressed and anxious or downright irritated at not having a kitchen, your children might also start to feel stressed and overwhelmed. To help them get through this challenge, use some creativity. For instance:
If you have a backyard, pretend you're camping and set up chairs around the grill or fire pit, to roast marshmallows after dinner. Stay outside as long as possible, as if you were camping, telling ghost stories or hiking around your own yard.

Have a picnic in the home's living room. Set up a blanket or outdoor tablecloth on the living room floor and pack your meal in a basket.

Get out of the home to eat as much as possible; this doesn't mean running up restaurant tabs, but pack sandwiches to take to the park or a community pool for dinner, as allowed. If you're out of the house, you might not notice the mess and disorganization quite as much!
How Do I Prepare for a New Kitchen?
If you've survived your kitchen renovation project, it's time to prepare for a new kitchen! Your first step is to test out everything, including drawers and doors as well as appliances, to ensure it all works as expected. Once you've ensured everything is functional and satisfactory, it's time to move into the space!
During your home's kitchen renovation, it's good to consider where you'll store your items and make that new space work for you. Write down a few notes if needed, so you know the best spot for everyday dishes, cookware, special items, and so on. Keep in mind where they'll be used most often and how far you might need to bring them from the dishwasher to a nearby cabinet or table, and choose storage areas that are most accessible and convenient.
As you settle into your new space, remember that your storage arrangements are not written in stone! If you find that you don't like where your dinner plates are located or would prefer your cookware and spices in another location, rearrange your cupboards as needed. The entire point of a kitchen renovation is to make the space workable and functional for you, so don't hesitate to try a new arrangement or layout once you can finally move your kitchen accessories back into that space.
A Word From Our Kitchen Remodeling Contractors
This information is proudly presented to you by the renovation pros at Sarasota Kitchen Remodeling. If you're still wondering how to survive a kitchen remodel or are ready to schedule a new kitchen design in your Sarasota area home, call us today! We offer customized plans and FREE quotes, and stand behind all our work with an industry-leading guarantee you can trust.