Have you been putting of a much-needed bathroom remodel in Sarasota? If so, now is the time to call a bathroom renovation contractor near you! A brand new bathroom offers many benefits and advantages for homeowners and their families, making the end result well worth your investment of both time and money!
Before you go another month or, worse yet, a full year without scheduling a consultation with a Sarasota bathroom renovation contractor, consider how this work might benefit you and everyone in the home. You can then discuss your needs and budget with a bathroom renovation contractor in Sarasota as needed, and end up with a bath space you'll love for years to come.
1. Get a Bathroom Remodel in Sarasota for a Growing Family
Growing children, as well as more children in the home, often mean that it's time for a Sarasota bath remodel! Teenagers especially might need added storage space for personal care items as well as dual sinks and separate storage space in a shared bathroom.
A Sarasota bathroom renovation contractor might also be able to add a new bathroom to your home so the kids can have their own bath, even splitting a large bathroom into two separate spaces. Whatever your needs for added space or even another bathroom altogether, discuss your options with a renovation contractor in Sarasota!
2. Enjoy a Home Spa With a Sarasota Bath Renovation
Your bathroom should do more than offer a space to get clean! A spa-like experience at home can actually offer many health benefits, especially for those who are physically active and who might otherwise suffer from lots of muscle aches and pains.
If you would love some added relaxation in your home's bathroom, consider an oversized garden tub with whirlpool jets, giving you room to stretch out and relax in your hot bath. Bamboo shower seats added to a walk-in shower allow you to sit and enjoy the steam and warm water in full comfort. Shower seats also mean reaching your feet and toes more easily, so you can give them a good scrub and massage after a day spent outdoors!
Even if you don't have the room or budget to create a real spa experience in your home's bathroom, consider a Sarasota bathroom renovation to add space for towels and luxury items near the bathroom. Updated décor in soft, muted colors can also create a more relaxing experience in the bathroom so it's a space that's as enjoyable as it is functional.
3. Downsize or Better Utilize Space With a Sarasota Bath Renovation
When planning a Sarasota bath renovation, most homeowners try to increase the room's overall layout or space. However, you might find that your current bathroom is actually too big, or has underutilized areas that lack storage and function.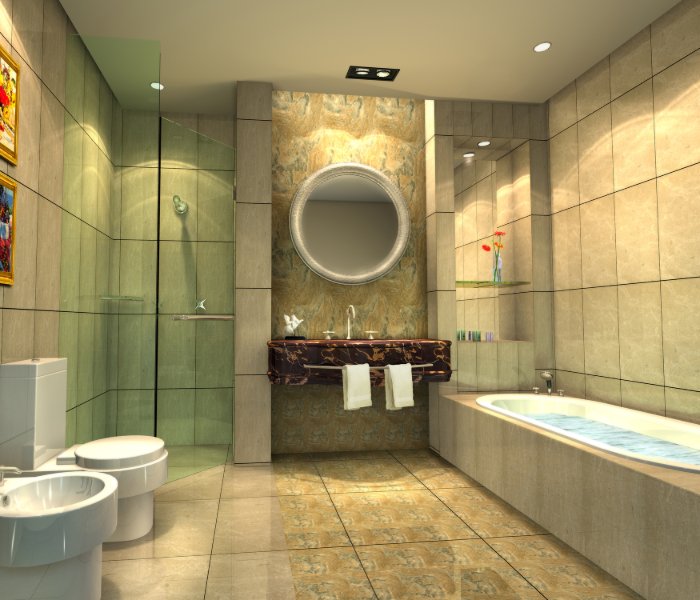 As an example, your home's bathroom might already have an oversized Jacuzzi tub and separate walk-in shower, but you find you don't use the tub very often if at all. In that case, you might have your Sarasota bathroom renovation contractor downsize the tub's size and use that "leftover" space for an extra linen closet or built-in shelving.
As another example, an oversized bathroom might have lots of "dead space" between fixtures and features, which you might find awkward and without much practical use. Your bathroom renovation contractor in Sarasota might create an added closet or vanity with that space, or combine the bedroom closet with the bathroom for a luxurious dressing area. Whatever your needs in particular, don't let an awkward or oversized bathroom get in the way of maximizing the space in your home and making it work for you personally.
4. New Surfaces and Materials Are Faster and Easier to Clean!
If you spend far too much time throughout the week scrubbing bathroom floors, tubs, and counters, it's probably time for a bath renovation for a Sarasota home! This is especially true if you find that those surfaces never seem to get clean no matter how much you scrub or what products you use during cleaning.
One reason to consider a renovation is that old, worn tile and counter materials get scratched and etched over time. Dirt, grime, mold, and other residues get trapped in those nicks and scratches and cannot get clean no matter how hard or how much you scrub. Those materials not only stay dirty even after cleaning, they also tend to look dingy and yellowed as well.
Today's bathroom surface materials, including porcelain or ceramic floor and shower tile and solid stone countertops, resist scratching, etching, and other damage. Not only are they easier to clean but they're also more hygienic as well.
5. Choose a Bathroom Remodel in Sarasota Before Selling Your Home
Homeowners might wonder why they should invest in a bathroom remodel in Sarasota before selling a home, but note that potential buyers are often put off by old, worn, and outdated spaces. They might also mentally calculate the cost of updating a bathroom, including compensation for the hassle of renovating a bathroom space! In turn, your outdated bathroom might mean fewer bids on your home and higher bids from anyone who is interested in potentially purchasing your home.
On the other hand, an updated bathroom might attract more potential homebuyers willing to pay top dollar for a "turn-key" home, meaning one they only need to turn the key and open the door without any work! An updated, modern bathroom also sends the message that you've cared enough about your home to keep it repaired and in good condition over the years, while a worn-out bathroom might make potential buyers wonder what you've neglected while living there.
If you're still hesitant about investing in a bathroom remodel for a Sarasota home you might sell down the road, remember that you don't need to spend too much just to update the space. New cabinetry, tile, and counters are often more affordable than you might imagine, and can make the entire space seem brand new. Your renovation contractor can also suggest affordable ways of updating the space so it's functional for your family while still appealing to buyers if and when you do decide to put your home on the real estate market.